dutchgrub's been somewhat quiet recently – traveling and enjoying fabulous food in Hamburg, New York and Montreal. Will report later on the culinary part of those adventures.
Upon return I was greeted by my Dutch colleagues with the infamous kroket, a deep fried meat ragout covered in breadcrumbs and somewhat of a national passion. On the menu of the restaurant serving us kroketten it was ominously listed as "Holland's Glory" – two croquettes served on bread with a sauce that is a mix of mustard and mayonnaise.
I thought I would share these pictures with you, knowing that dutchgrub's readers are quite particular about their food choices. I hope they give you a good impression. Or should I say warning?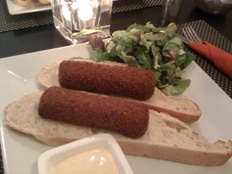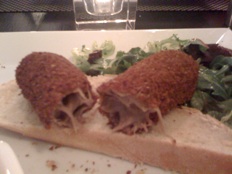 Many lunch rooms and snack bars serve kroketten. They are filled with meat, cut or shredded into longish threads, in a brown, creamy, salty sauce. They are covered in a thick, crunchy breading. They are deep fried and quite likely to burn the top of your mouth if you're not careful. They are usually served on white bread, often sliced or hamburger buns.
The Dutch collectively get very excited about kroketten, especially when served famous brands van van Dobben or Kwekkeboom. Be careful when you try them out!