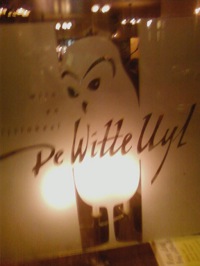 Restaurant De Witte Uyl Amsterdam is one of dutchgrub's favorite restaurants in Amsterdam and has a yearly Christmas special.
De Witte Uyl is one of the more popular restaurants in town for vegetarians. They always have several vegetarian options on their menu and recently started catering more and more to vegetarian guests.
This year, owners Annemieke and Han decided to try something new and are offering a fully vegetarian Christmas menu next to the regular one. Like the regular menu, the vegetarian one has 6 courses. There is a carpaccio of beets, wok fried Jerusalem artichoke, chestnut tarte tatin, mushroom ravioli and a goat cheese soufflé. For dessert there will be yuzu ice cream with meringue, although you might want to persuade them to trade that for the amazing chocolate board.
The menu is available December 25 and 26 for € 75,=. I usually stay away from wine arrangements, but given the excellent wine list and great pairing skills of Annemieke you might want to consider spending an additional € 39,= for the surprise arrangement. The evening starts with an apéritif at 18:45.
For reservations, get in touch by email at info@witteuyl.com.